First of all, thanks for taking the time to visit! I'm so happy you're here! 
To give you some context of what you can expect on this blog, I wanted to tell you a little bit of a story..
Over the course of my life, I've had the privilege to see some pretty amazing places. I have even made it to all continents of this world already, and I am not even 30 yet! Well excluding Antarctica, which is actually still on my list.
My travels themselves, however, couldn't have been more different: from studying abroad, backpacking, and beach holidays to long-term road trips and volunteering. Yet they all have one thing in common: I would come back and feel like I'm a different person. Somehow, even if the trip was only a couple days or weeks long, I would feel like I had grown as a person during that time spent traveling.
My first long trip was when I spent one year in the United States living with a host family when I was just 17 years old. I came back and broadly proclaimed that it had been the best year of my life! That I loved this new country which I had experienced and couldn't wait to be back! Two years later, I went to volunteer in South Africa for a month. And guess what.. I had a similar experience upon my return. Now there were two places where I felt like I had left a tiny piece of my heart..
This story would repeat over and over again until this day. Yet, even if I left a little bit of myself behind in every country, I still felt like I gained so much more from this experience. Every place taught me something else. My experience in South Africa made me realize that you don't need a lot of money to be happy. My trip to Central Asia showed me that there is still kindness in this world. Finally, my travels to Australia opened my eyes to the beauty of the world that needs our protection to stay alive.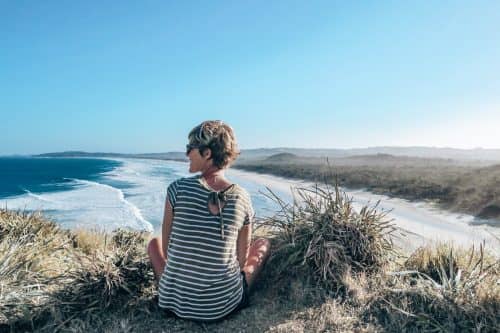 I realized that I can't sit on the sidelines and watch others destroy this beautiful planet that we call our home. I have seen a lot of beauty and I want to be part of protecting it! Not only for the sake of the planet itself, but also to give as many people the same opportunities that I had: To see the world, lose a piece of your heart in every place you visit, and come back with more than you had when you left.
So to give you a flavor of what the blog will be about, I will cover any topics related to traveling, sustainability, plastic free living and giving back. The focus will especially be on traveling with a minimal amount of plastic, as that is a material that is consistently damaging our natural environment. We can't deny that travellers are sometimes part of the problem with plastic pollution, which is why this blog will try to find a balance between exploring our planet, without doing any more harm to it.
If that sounds like something you'd love to learn more about, I am more than happy to have you come along on the ride! I will send out a mail every once in a while to keep you in the loop, so head over here and subscribe if you don't want to miss out. If not, thanks for reading this far, I hope you have a wonderful rest of your day! 🙂