My favorite part of the weeks before our trip was definitely the reaction of people when I told them where we were going. At work, people would just casually ask me while they were filling their water bottle or getting a coffee. I think most of them expected me to say something like Italy, Greece, maybe even Colombia or Thailand. When I replied with Kyrgyzstan, it usually took them a second or two to register what I had just said. Their expression was priceless.
Since we were going to three different countries, I would mix up my answers, sometimes saying Central Asia, sometimes naming one of the other countries. The reaction was always the same. Central Asia is definitely not on people's radar when it comes to summer vacations! Or any other vacations for that matter.
Spending just two and a half weeks there, I desperately think that should be changed! That part of the world is so amazingly beautiful, rough, barren, genuine and exotic, that everybody should see it at least once in their life. I'm here to give you some impressions of a region that has not yet been discovered by tourists. Read on if you want to find out what my highlights were and how to prepare to make your trip one of the experiences you'll never forget!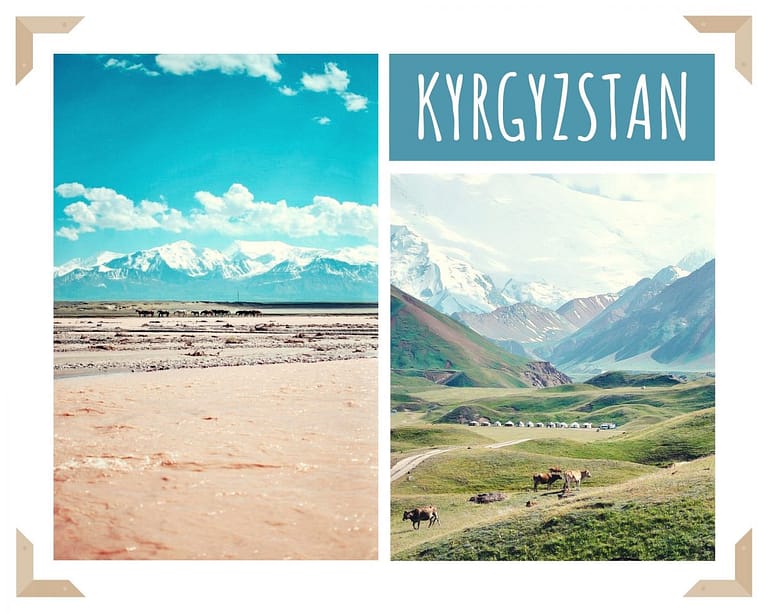 Country of Horses and Yurts
We started our round trip in Osh, Kyrgyzstan. When we arrived at the tiny airport, we quickly noticed the change in temperature coming from the German summer. It was hot. Very hot. The sweltering heat didn't do us any favors while we were trying to find Oibek, who was supposed to pick us up from the airport with our rental truck. Luckily, it didn't take very long for us to find each other. After a quick pitstop in his office and at the local supermarket, we were soon off to southern Kyrgyzstan. We only had 16 days, so our plan was to already cover some grounds on the first day.
Making our way out of the city of Osh, everything already looked very different to what we were used to. The land was mostly brown, there were hills and mountains surrounding us. Wild horses were roaming the area. Just a couple miles from the city, local houses also changed. Instead of brick houses, we saw more and more people living in yurts or old shipping containers.
It didn't take long until we had our first encounter with the local police. Apparently we were speeding. That couldn't be good. Especially if they don't speak your language and you can't explain to them how you literally just arrived three hours ago and didn't know the speed limits. We hadn't really seen any signs either. We were lucky though, they apparently understood enough and just let us go. First challenge mastered. Welcome to Kyrgyzstan!
The mission for the rest of the day was to find a place to sleep for the night and get used to the altitude. We would be driving at an altitude of about 3,000 to 5,000km during the next days, so we wanted to give our bodies some time to adjust. We discovered a tourist info center on the map in one of the towns, so we decided to head there. The girl could indeed give us some advice on where to sleep and hike the next day. After leading us into a dark backroom in one of the makeshift houses of her village, she gave us vague directions to a yurt camp at the base of mount Stalin. Just cross the river, turn right, left and right again.
What sounded simple, turned out to be a rather confusing way to the base of the mountains. It's not like there were clear roads. A labyrinth of dirt roads would have been a better description. We were constantly wondering if that was indeed a turn or rather just some sand that looked like a road. When we finally arrived at what looked like the place she described, it was breathtakingly beautiful! Cows were grazing among a couple of small lakes surrounded by hills with tall, snowy mountains in the background. We parked the car right next to the biggest lake and headed for dinner in one of the yurts. Best cheesy dumplings (or whatever that was) I ever had!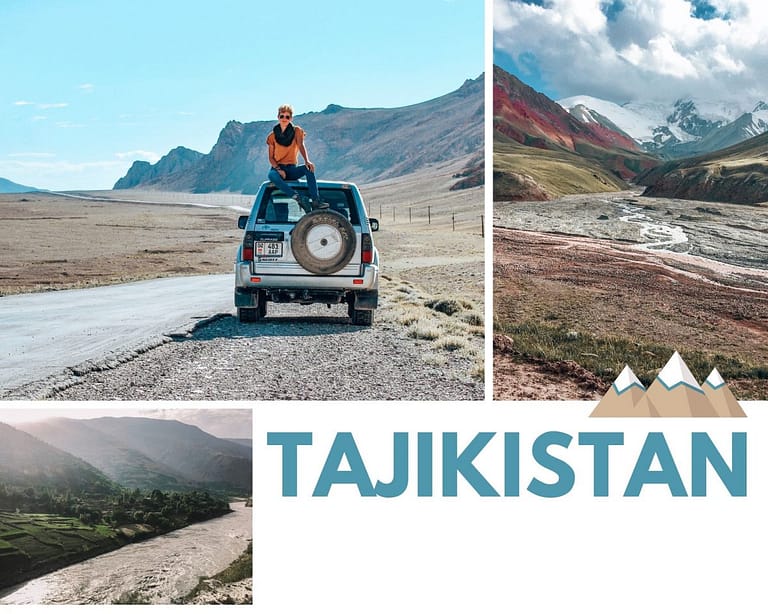 Chasing
the Pamir Highway from Moonlike Landscapes to Lush Valleys
We entered Tajikistan the next day. To be precise, we actually spent the night in no-mans-land and only crossed the Tajik border the day after. But that's a different story. By now, the heat had given way to freezing cold temperatures at night and mild sunny days. We were now on the Pamir Highway, which was one of the main attractions that had drawn us to Tajikistan. The next days would mainly consist of driving through mountainous landscapes and stopping every once in a while to take photos. There were rarely any other cars or people that we encountered. The "Highway" followed the Chinese border for a while and climbed up to 4,000km in altitude. We came across a beautiful lake and military stations which looked very deserted.
After a day of driving through moonlike landscapes, we stopped in Alichur for the night. The past nights of sleeping in the car had been freezing cold, so we decided to "treat ourselves" and sleep in a home stay. It turned out to be a great decision! We didn't only get a delicious homecooked meal, we also met other inspiring travelers. There were two different roads to continue our road trip, and we weren't sure whether the Afghan border was safe for traveling. Reports of a fellow traveler who had biked along the Whakan Valley finally convinced us to check it out ourselves.
During the next leg of our journey, the landscape changed dramatically. Barren mountains turned into lush grasslands and small rivers. We could see people going about their business across the border in Afghanistan and on "our" side in Tajikistan. The roads started to get busy: Farmers walking their cows, tourists biking the highway, school children walking home from school. And to be honest, the Afghan and Tajik side of the river didn't look that different. Except for the biking tourists of course..
All that driving from the past couple days started to make our legs twitchy, so we decided to explore one of the adjoining valleys by foot. In theory, our plan sounded great. Drive 30km to a suspension bridge, hike up to a village and then a lake, stay the night and come back down the next day. In practice, it didn't quite work out the way we planned. Some 5km before we reached the suspension bridge, our car died and simply wouldn't turn back on. Long story short, it took four locals, a Russian dictionary, lots of hand gestures, some US $, a bucket full of apricots and more than five hours to get it back to life.
When we finally made it to the village, we were too exhausted to continue on to the lake. It didn't matter though, because the village itself was extraordinary. It was situated high up in the mountains with no car ever reaching it. The locals were living a life that seemed to be stuck in the 1900s with a weird modern twist. The streams served as drinking water, dishwasher, washing machine and shower all in one. They had fields full of potatoes and other veggies. And when it got dark, they would take out their mobile phones to light the way. We were interested in finding out what had brought the people up to this isolated part of the world. Yet, even the elders weren't quite sure why they were there. It was just the life they had known since they were born.
1001 Nights in the Kingdoms of Timur and co.
We entered Uzbekistan in a very similar manner how we left Tajikistan: Car trouble. We ended up having three big problems with our car on the entire trip which cost us several hours each. We probably lost around 1.5 days just by trying to fix our car. I wouldn't call that time entirely lost, though. We could always count on the friendliness of locals who would go out of their way to help us, feed us and just generally take care of us. This was one of the best ways to experience part of their culture!
When we weren't fixing our car, we were mainly exploring the cities of Bukhara and Samarkand. While Tajikistan was nature and adventure for us, Uzbek cities were history and exoticness. We walked from mosque to madrassa to local markets or hammams. Samarkand proved to be an interesting mixture of  modern city and historical center. Everything seemed to revolve around the so-called Registan which was an old Islamic university, mosque and old economic center all at once. Bukhara, on the other hand, looked like you walked back in time. The entire city was full of historical buildings and castles. The heat was back, however, and didn't only make sightseeing, but also the searches for ATMs, seem endless.
My favorite was definitely seeing the beautiful architecture of the historical buildings. The colors, attention to detail and difference to buildings I had seen before were astonishing. It was interesting learning about the different kings and emperors ruling various parts of the country. Their kingdoms seemed to be constantly growing and shrinking over the years or decades they were on the throne.
Before heading back to finish our journey in Osh, we decided to visit a local silk factory. We were on the silk road after all! The lovely local girl who showed us around the factory was probably the person who spoke the best English on our entire trip. Finally, somebody could understand and answer all the questions I had! But also, finally somebody actually greeting me and not ignoring my presence because I was female. It was hard getting used to their culture sometimes..
Why Central Asia is so special
To be honest, the hardest part of the trip was probably returning home. It is such a beautiful and genuine place that I can only recommend you to visit yourself. While Uzbekistan is definitely the most developed of the three countries, it also has most tourists. I was surprised to actually see families with little kids visiting that part of the world. But to be honest, why not? It is a beautiful country with friendly locals and an intriguing history. Not at all the dangerous country that we sometimes picture in our minds.
If I had to pick a favorite of those three countries we visited, I would choose Tajikistan though. The incredibly beautiful and isolated mountain ranges, the yurts, the vastness of the country, the lush valley bordering Afghanistan, and the welcoming locals were amazing to witness. I wished we had spent more time on the Pamir Highway. That's probably the only thing I would change going back, take it slower. For more tips on how to travel Central Asia by car, check out my six tips down below!